Our Member Organisations produce a range of excellent specialist journals
---

Biochemical Journal publishes articles exploring molecular mechanisms that underpin biological processes and covers the latest advances and new mechanistic concepts in the fields of biochemistry, cellular biosciences and molecular biology.
Biochemical Society Transactions is the reviews journal of the Biochemical Society and publishes concise reviews from across biochemistry and molecular biology.
Bioscience Reports is open for good science and provides a home for sound scientific research in all areas of cell biology and the molecular life sciences. This fully Open Access journal publishes all papers under the liberal CC BY license.
Clinical Science translates molecular bioscience and experimental research into medical insights, and offers multi-disciplinary coverage and clinical perspectives to advance human health.
Essays in Biochemistry offers reviews from experts in the field highlighting recent hot topics in biochemistry, written to be accessible for those not yet immersed in the subject.
Understanding Biochemistry are special issues of Essays in Biochemistry that are Open Access publications and are an essential resource providing up-to-date overviews of key concepts in biochemistry and molecular biosciences.
Neuronal Signaling is a new online-only, fully Open Access journal publishing research and reviews on all aspects of signaling within and between neurons.
Emerging Topics in Life Sciences is a new journal of commissioned reviews jointly owned by the Royal Society of Biology and the Biochemical Society. Written for a multifaceted audience, each issue focusses on a new, or growing, key topic and is guest edited by an expert in that field.
---
Journal of Ecology (@JEcology) publishes broad-reaching and original papers on all aspects of plant ecology. Journal of Ecology brings the most important papers in our area to an international audience, a role it has developed since its foundation in 1913.
Functional Ecology (@FunEcology) publishes high-impact papers that enable a mechanistic understanding of ecological pattern and process from the organismic to the ecosystem scale.
Journal of Applied Ecology (@JAppliedEcology) publishes novel, high-impact papers on the interface between ecological science and the management of biological resources.
Journal of Animal Ecology (@AnimalEcology) publishes the best original research on all aspects of animal ecology, ranging from the molecular to the ecosystem level.
Methods in Ecology & Evolution (@MethodsEcolEvol) promotes the development of new methods in ecology and evolution, and facilitates their dissemination and uptake by the research community.
Ecology and Evolution (@WileyOpenAccess) is a peer reviewed, open access journal providing rapid publication of high-quality research in all areas of ecology, evolution and conservation science.
---

The British Journal of Pharmacology (BJP) is a broad-based journal giving leading international coverage of all aspects of experimental pharmacology. It publishes high quality original research and authoritative reviews. Each year a range of themed issues are published and a must-read issue, the Concise Guide to Pharmacology is published biennially.
The British Journal of Clinical Pharmacology (BJCP) contains papers and reports on all aspects of drug action in humans: invited review articles, original papers and correspondence. The journal enjoys a wide readership, bridging the gap between the medical profession, clinical research and the pharmaceutical industry.
BPS members receive free access to both BJP and BJCP online and via their apps.
Pharmacology Research and Perspectives (PR&P) is jointly published by the American Society for Pharmacology and Experimental Therapeutics (ASPET), the British Pharmacological Society (BPS), and Wiley. PR&P is a bi-monthly open access journal that publishes a range of article types. PR&P publishes papers submitted directly to the journal and those referred from the journals of ASPET and the BPS.
---

Clinical and Experimental Immunology (@britsocimm) is a top ranking, international journal publishing biologically significant studies that have clinical relevance. Amongst the foremost journals in this field, it attracts high quality papers on all aspects of clinical immunology and translational immunology from around the world.
Immunology (@britsocimm) is essential reading for workers in all areas of immunological research. Recognised as one of the leading journals in its field it is also one of the longest established immunology journals, boasting wide transcontinental representation in authors, editors and reviewers.
---

Journal of Applied Microbiology publishes research and review papers on all aspects of applied microbiology; including environmental, food, agricultural, medical, pharmaceutical, veterinary, taxonomy, soil, systematics, water and biodeterioration.
Letters in Applied Microbiology provides for the rapid publication of short, high quality papers in the broad field of applied microbiology.
Environmental Microbiology provides a high profile vehicle for publication of the most innovative, original and rigorous research in the field. The scope of the journal encompasses the diversity of current research on microbial processes in the environment, microbial communities and microbial interactions.
Environmental Microbiology Reports (EMIR) shares the same scope as Environmental Microbiology (EMI). This journal is available online only and holds compact research papers as an alternative to the full research papers published by EMI.
Microbial Biotechnology publishes papers of original research reporting significant advances in any aspect of microbial applications, including biotechnologies related to chemicals, pharmaceuticals, energy, mining, materials, agriculture, food and environmental protection.
---

Microbiology publishes topical, high-quality reviews and research papers on all aspects of the field. The journal combines editorial expertise from around the world with exceptional breadth of coverage, providing access to research in a single accessible source.

Journal of General Virology publishes high-quality research papers on topics including all aspects of animal, plant, insect, bacterial and fungal viruses, transmissible spongiform encephalopathies, molecular biology and immunology, virus–host interactions and antiviral compounds.

Journal of Medical Microbiology provides comprehensive coverage of medical, dental and veterinary microbiology and infectious diseases, including bacteriology, virology, mycology and parasitology.

JMM Case Reports is a peer-reviewed, gold open access, online-only journal, publishing original case reports on medical, dental and veterinary microbiology and infectious diseases, including parasitology. The journal also accepts case series, case reviews and case quizzes, as well as submissions for its image of the month competition.

International Journal for Systematic and Evolutionary Microbiology, formerly International Journal of Systematic Bacteriology (IJSB), is the official journal of record for novel prokaryotic taxa. It is the official publication of the International Committee on Systematics of Prokaryotes and the Bacteriology and Applied Microbiology Division of the International Union of Microbiological Societies.

Microbial Genomics is a new, fully open access, online-only and mandatory open data journal. It welcomes papers that use genomic approaches to understand microbial evolution, population genomics and phylogeography, outbreaks and epidemiological investigations, impact of climate or changing niche, metagenomic and whole transcriptome studies, and bioinformatic analysis. The journal's scope covers the breadth of microbiology, from clinically important pathogens to microbial life in diverse ecosystems.
---
Conservation Physiology is an online only, fully open access journal. Biodiversity across the globe faces a growing number of threats associated with human activities. Conservation Physiology publishes research on all taxa (microbes, plants and animals) focused on understanding and predicting how organisms, populations, ecosystems and natural resources respond to environmental change and stressors. Physiology is considered in the broadest possible terms to include functional and mechanistic responses at all scales. The journal welcomes research towards developing and refining strategies to rebuild populations, restore ecosystems, inform conservation policy, and manage living resources.
Journal of Experimental Botany publishes papers that advance our understanding of plant biology. Original research should provide new information on fundamental processes or mechanisms including those underpinning the improvement of plants for the sustainable production of food, fuel and renewable materials.
The Plant Journal features a mix of original research articles, technical advances and resource and special issue articles. Published research will provide insight into an as yet unknown mechanism or poorly understood process, will constitute a highly significant contribution to our understanding of plants, and be of general interest to the plant science community.
Now a fully open access journal, Plant Biotechnology Journal publishes high-impact original research and incisive reviews by leading researchers in applied plant science, with an emphasis on molecular plant sciences and their applications through plant biotechnology. The Journal provides a forum for the most important advances in this field, including curiosity-driven studies with the potential for application, strategic research in plant biotechnology, scientific analysis of key issues for the beneficial application of plant sciences and scientific analysis of the performance of the products of plant biotechnology in practice.
---

The Journal of Physiology publishes original Research Papers in all areas of physiology illustrating new physiological principles or mechanisms. Papers on work at the molecular level, at the level of the cell membrane, single cells, tissues or organs and systems physiology are all considered, with an emphasis on human and mammalian physiology.
Experimental Physiology publishes high quality, original, physiological research papers that give novel insights into fundamental homeostatic and adaptive responses in health and papers that further our knowledge of pathophysiological mechanisms in diseases.
Physiological Reports is an online only, open access journal that will publish peer reviewed research across all areas of basic, translational, and clinical physiology and allied disciplines. It is a collaboration between The Physiological Society and the American Physiological Society, and is therefore in a unique position to serve the international physiology community through quick time to publication while upholding a quality standard of sound research that constitutes a useful contribution to the field.
---
The Nutrition Society has five high impact scientific journals which are published by Cambridge University Press.
British Journal of Nutrition is a leading international peer-reviewed journal covering research on human and clinical nutrition, animal nutrition and basic science as applied to nutrition. It recognises the multidisciplinary nature of nutritional science and includes material from all of the specialities involved in nutrition research.
Proceedings of The Nutrition Society publishes review papers presented by invited speakers who are recognised international experts in their field, and abstracts of Original Communications presented at the scientific conferences of The Nutrition Society.
Public Health Nutrition focuses on the promotion of good health through nutrition and the primary prevention of nutrition related illness in the population. This international journal is essential reading for all specialists involved with nutritional epidemiological research, the role of nutrition in public health, and the identification of practical solutions to public health problems.
Nutrition Research Reviews offers a comprehensive overview of nutritional science today. By distilling the latest research and linking it to established practice, the journal consistently delivers the widest range of in-depth articles in the field of nutritional science.
Journal of Nutritional Science is an internationally peer-reviewed open access journal which welcomes high-quality research articles in all aspects of nutrition. The underlying aim of all work should be, as far as possible, to develop nutritional concepts.
---
Publications by the Royal Society of Biology, Biochemical Society and Portland Press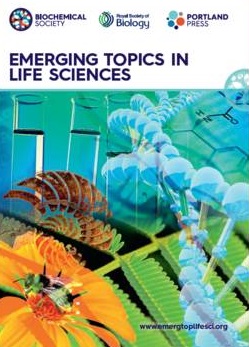 Emerging Topics in Life Sciences, is a new hybrid open access reviews journal jointly owned with the Biochemical Society and published by Portland Press. Available in 2017, it will highlight new and growing fields across the life sciences.
The journal will feature reviews written for an interdisciplinary audience ranging from students and early career researchers to established scientists, each issue will focus on a new or growing field of life science research, guest edited by an expert in the field.
---
Journal of Biological Education is an international journal that covers policy and curriculum developments, bringing you the latest results of research into the teaching, learning and assessment of biology.
It is owned by the Royal Society of Biology and published by Routledge.
The archive of the journal and the current issue can be accessed via the Taylor and Francis website.