West Midlands
Welcome to the regional pages for the West Midlands. Full details of national and local events are available on our events pages.
Upcoming branch events
Tuesday 4 February, 19:00-20:20
The Institute for Forest Research: Talk by Professor Jeremy Pritchard
Saturday 15 February, 15:00-16:45
Darwin's Worms - Darwin Festival 2020 lecture
Visit the reports section to find out about past events the branch have run.
Social media
Visit the West Midlands branch Twitter page for more branch news.
Our members
Visit the branch map and branch demographics to see the numbers and locations of our members (Dated January 2019).
Committee
Chair: Dr Sue Howarth CBiol FRSB
Treasurer: Lesley Payne CBiol MRSB
External Communication Secretary: Lesley Payne CBiol MRSB
Meetings Secretary: Amelia Lakin
Student Engagement Coordinator: Dr Phillip Young FRSB
Events Coordinators: Norma Broadbridge MBE FRSB, Dr Caroline Day CBiol FRSB, Dr Daniel Franklin MRSB, Dr Jill Johnson MRSB, Elisha Zadok AMRSB, Ben Glover, Dr Sarah Williams MRSB.
Download AGM minutes from the November 2018 meeting.
Contact details
Please get in touch by emailing us at westmidlands@rsb.org.uk
Meet your some of your West Midlands' Committee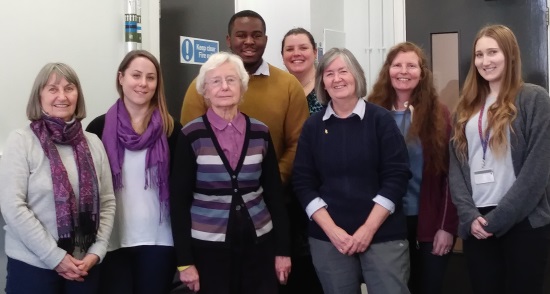 From left to right: Lesley Payne (Treasurer), Janine Taylor (until July 2018), Norma Broadbridge OBE (Event Coordinator), Elisha Zadok (Event Coordinator), Dr Jill Johnson (Event Coordinator and Meetings Coordinator), Dr Sue Howarth (Chair), Dr Caroline Day (Event Coordinator) and Tara Lancaster (until Nov 2018).