News
Technicians provide "frontline support for student mental health and wellbeing", report released by RSB and partners confirms
A new report released by sector leaders confirms that technical staff regularly support students with sensitive and personal issues including bereavement or sexual assault − often with very little formal recognition or training.
The report, "Technicians: Providing frontline and vital support for student health and wellbeing," was developed by a collaborative team from the Technician Commitment, Science Council, Institute of Physics, Royal Society of Biology, Royal Society of Chemistry, University of Liverpool and University of Nottingham.
The findings of the report are based on data submitted by over 700 members of the technical community, in a survey across 49 higher education institutes.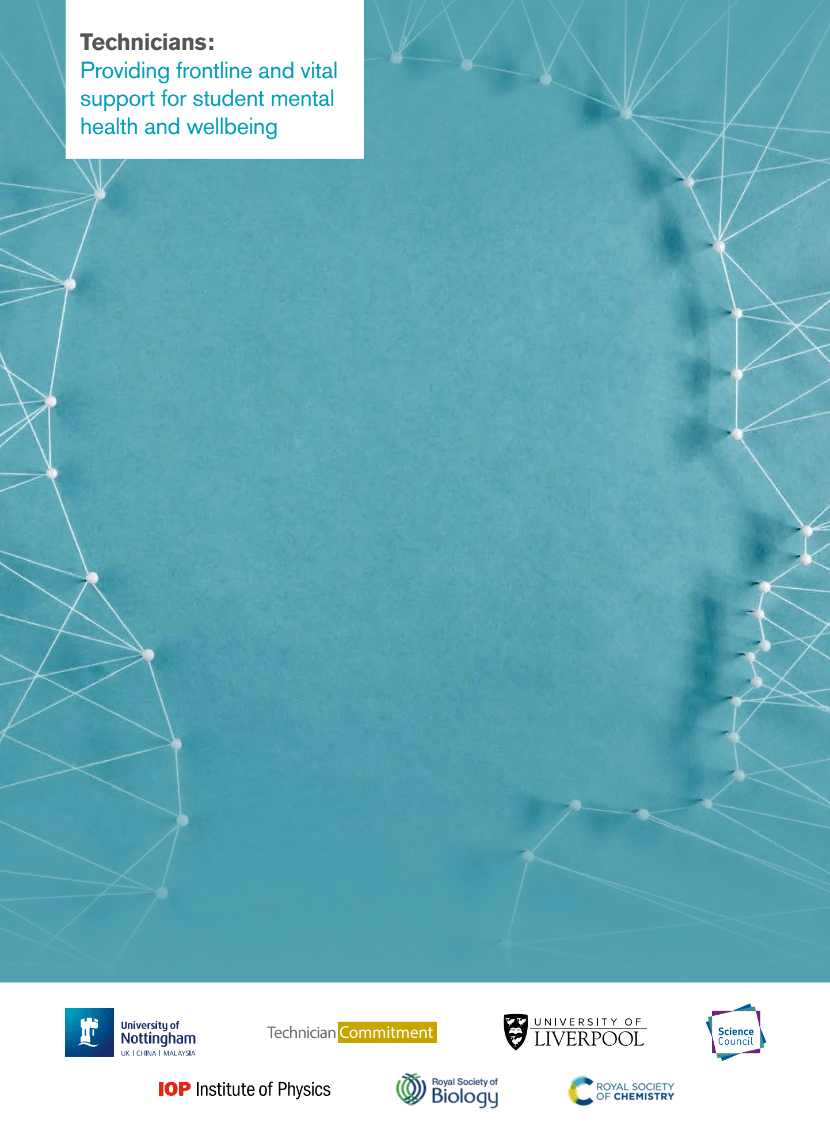 22% of the technicians who responded to the survey confirmed that they provided pastoral support, and over 80% of these respondents said that this was not a formal part of their role; many had not received additional training to help with the delivery of such support.
Around 50% of respondent technicians said that they had discussed a personal problem with a student in the last three years.
The majority of the 30,000 technicians working in higher education institutes are student-facing, and the frontline nature of their roles means many may be the first port of call for students struggling with their mental health.
With reporting of mental health issues on the rise across the UK higher education sector, and one in four students affected by a mental health condition, the pressure for the technical workforce to provide pastoral support above and beyond their job role may follow a similar trend..
To combat some of these issues, the report offers recommendations to the sector to ensure all involved are fully supported. The recommendations include that proper training is made available to those who wish to and are able to provide pastoral support, and for HEIs to formally recognize and gain further understanding to the extent to which their technical staff are supporting student wellbeing.
Rachel Lambert-Forsyth CBiol FRSB, director of membership and professional affairs at the RSB, said of the report: "Technicians are a vital component of the research sector, but this report shows that many are providing support to students that goes above and beyond their role and responsibilities.
"This report is an important step in recognising the pastoral role that technicians often play due to the nature of their frontline and integral position in research teams and teaching environments.
"The RSB is committed to supporting the technical workforce and student population within the biosciences, and we will be carefully considering how to reflect the report's recommendations in our policies, and membership and professional development offers."
Kelly Vere, programme director, technician commitment and higher education lead at the Science Council, said: "While it is essential that we value and invest in the skills and technical expertise of technicians, we also need to recognise the additional pastoral role they play in actively supporting student wellbeing.
"We are pleased to be working with so many prominent organisations to shine a light on this key issue, and to ensure technical colleagues can obtain further training to support them in this vital role."