News
Shortlist announced for RSB School Biology Teacher of the Year Award 2021
Three teachers have been shortlisted for the Royal Society of Biology School Biology Teacher of the Year Award 2021.
The teachers selected for the final are Amber Barnard from Ark St Alban's Academy, Birmingham; Paul Downie from Hyndland Secondary School, Glasgow, and Matthew King from Westcliff High School for Girls, Essex.
The award seeks to identify the UK's leading secondary education teachers, recognising the invaluable role they play in educating and inspiring the next generation of biologists.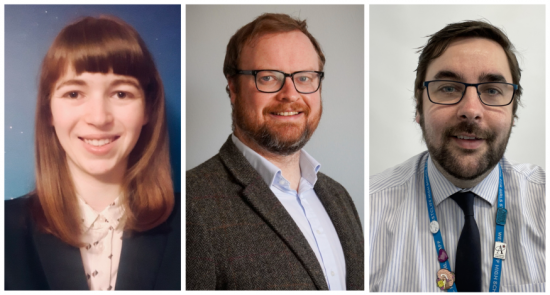 This year's shortlisted teachers, from left to right: Amber Barnard, Paul Downie, and Matthew King
Amber Barnard, biology teacher at Ark St Alban's Academy, has been teaching for five years.
Barnard was shortlisted for her efforts to ensure her students access to high-quality biology education regardless of their background.
She also runs a programme of extracurricular events for students and delivers weekly instructional training sessions with her colleagues.
Barnard commented on being shortlisted: "I take such pride in seeing students' knowledge, skills and confidence in the subject improve over time.
"Many of the students I work with are set to become first generation attendees at university and therefore have a lasting impact on their community.
"As such I feel that this nomination is as much a testament to their hard work and determination as my own."
Paul Downie, Faculty Head of Science at Hyndland Secondary School, has been teaching for seven years. Downie was shortlisted for his "consistent commitment to strive for excellence in teaching biology."
He has created and hosts The Higher Biology Podcast and is the coordinator for West OS, an online school of recorded video lessons.
Downie said on being shortlisted: "Given the challenges over the past year that we have all faced both professionally and personally, it is important that we all take time to reflect on what we have learned and how we can use those lessons to continue to improve how we support and enthuse young people studying biology.
"I hope that awards such as this allow us all to reflect on the many successes across the teaching profession and the importance of biology and life sciences education in providing young people with a greater understanding of the world they live in."
Matthew King, head of biology at Westcliff High School for Girls, has been teaching for 11 years.
King was shortlisted for his various uses of technology and tools in lessons and providing a comprehensive programme of entrance exam workshops for students.
He also delivers a Science CPD programme in schools across Essex.
King said on being shortlisted: "I enjoy being able to promote the subject and teaching strategies through my work with STEM learning to a national audience.
"Despite the difficulties of the last year, teaching has been my constant, it is such a special job, and we have many amazing young people who I know will make a huge impact on the world."
All three teachers will now submit a short case study, explaining how they have enhanced their students' learning. The Award's judging panel will also make online visits to the shortlisted teachers' schools.
The winner will be announced in the summer, and will receive £500 for themselves and up to £500 of free Oxford University Press resources for their school.