News
Coventry University first in the UK to receive RSB Doctoral Training Accreditation
The Royal Society of Biology has awarded Doctoral Training Accreditation to the Centre for Sport, Exercise and Life Sciences (SELS) at Coventry University, the first organisation in the UK to receive such recognition.
Doctoral Training Accreditation is awarded following an independent and rigorous assessment, recognising programmes which contain a solid academic foundation in biological knowledge and key skills, and prepare graduates to address the needs of employers.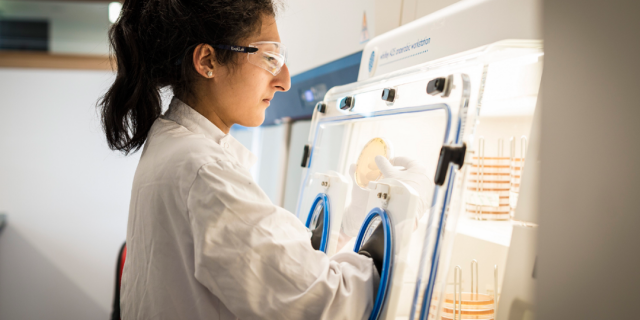 PhD Student Gurpreet Sandhu working in Coventry University's Science and Health Building (Photo credit: Coventry University)
Professor David Coates MBE, chair of the RSB accreditation committee: "After visiting Coventry University, the accreditation panel were particularly impressed by the Progress Review Panel meetings, the students' involvement in the development of parts of the training programme, well-developed ethical and safety approval and awareness processes, and the use of reflective statements in a flexible way to support student progression and development.
My congratulations to Coventry University for becoming the first institution in the UK to be awarded Doctoral Training Accreditation by the Royal Society of Biology."
SELS's academic director Professor Derek Renshaw commented: "We believe we're leading the way in how research students are trained – and it is fantastic to have this accreditation to show people that a renowned institution such as the Royal Society of Biology agrees.
"These are increasingly competitive and demanding times in academia and industry and it's very important for us to be really forward-thinking and innovative when it comes to preparing our research students for life after their PhD. It's about making sure they are adaptable, have the correct skills to enable them to excel in their chosen careers.
"Universities work very hard to boost their undergraduate students' employability by ensuring they are well-rounded and have access to a variety of different opportunities – we should absolutely ensure we are doing the same for doctoral students too."
The accreditation of doctoral training programmes in the biosciences is based on twelve criteria, which have been developed in consultation with the high education community. These criteria enable graduate students to function safely and effectively as researchers both within their specialised field of research and on a wider stage.
The criteria for Doctoral Training Accreditation also closely align with the attributes required for Chartered Biologist status. Once students graduate from an accredited doctoral training programme, they will only need to complete one further year of professional experience in order to be eligible to apply for Chartered Biologist status.
In recognition that many doctoral training programmes encourage interdisciplinarity, Doctoral Training Accreditation by the Royal Society of Biology has been developed as a joint venture with the Royal Society of Chemistry and the Institute of Physics.