News
RSB magazine editor picks up prize for The Biologist
The Biologist's editor Tom Ireland MRSB has been honoured at the Scottish Magazine Awards.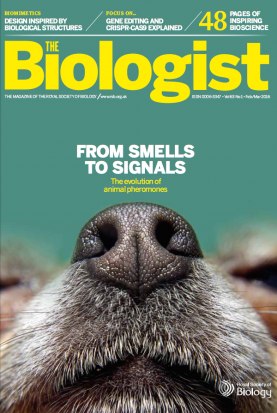 Tom was awarded Editor of the Year in the Professional Magazine category for his work on The Biologist, which is published by Glasgow-based Think Publishing.
The Biologist was also shortlisted for Cover of the Year for its April/May issue, which used a close up of a chihuahua's nose to illustrate a story about the evolution of pheromones.
After picking up his award at a gala dinner in Glasgow last night, Tom thanked The Biologist's editorial board and the Society's members for their contribution to the magazine's recent success.
"There's never been a more exciting time to write and edit a magazine about the life sciences. Hearing about all the work of our members and Fellows means editing The Biologist is endlessly fascinating and a real pleasure", said Tom.
The magazine also received 'Best Design' at the awards in 2012 following its redesign from a journal into a professional membership magazine.
Read selected articles from The Biologist online and subscribe now for full access.