News
RSB announces Science Communication Award winners
The Royal Society of Biology is delighted to announce that Dr Louise Hughes MRSB (Oxford Brookes University) and Hephzi Tagoe MRSB (University College London) are the winners of the Science Communication Awards 2016.
Held annually, the RSB awards are intended to celebrate science engagement work carried out by research scientists in order to inform and inspire the public.
The competition was open to bioscience researchers from UK universities and institutes in two categories with cash prizes; Established Researcher Prize (£1,500) and New Researcher Prize (£750).
Judge Dr Steve Cross, Wellcome Trust Engagement Fellow said, "The overall standard of the entries this year was higher than ever. It is great to see so many biologists taking their work out and engaging with public audiences about it."
"Both our winners impressed by reaching audiences who don't normally get to meet biologists face-to-face, and by using their creativity and drive to make fantastic engagement happen."
The Established Researcher Prize was awarded to university researcher and microscopist Dr Louise Hughes MRSB, from Oxford Brookes University.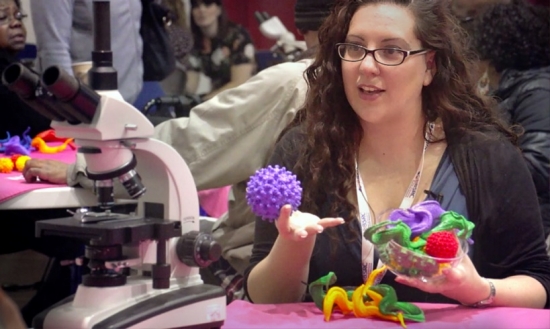 As curator of Zoom at The Glass Tank in Oxford, an exhibition focused on using microscopes to view objects invisible to the naked eye, Louise has often brought science and art together in an effort to stimulate public interest in the biosciences.
Louise said, "I feel overwhelmed, humbled and enormously enthused by winning the RSB Science Communication award."
"Communicating our science and research, whether it is to peers, supervisors, students, schools or the general public, is a fundamental part of what and who we are as scientists."
Dr Steve Cross said, "Louise was a great example of thinking outside of everyday ways of doing engagement, and of going to meet new and underserved public audiences where they live, rather than expecting people to come to you."
The New Researcher Prize was awarded to PhD student Hephzi Tagoe, from University College London, whose research focuses on skin biology in the Institute of Child Health.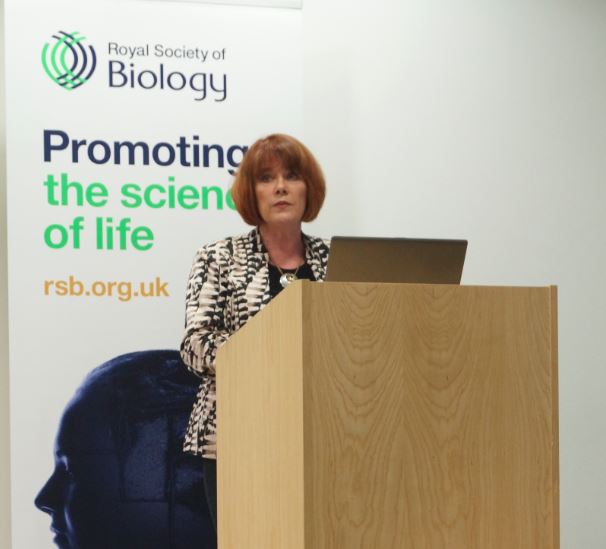 Shaping Healthy Attitudes and Protecting the Environment, a project founded by Hephzi, connects high school students in Ghana with scientists to investigate the impacts of environmental pollutants on community health and helps design innovative social solutions.
Hephzi said, "My early training in science communication and public engagement came from the RSB so it is a real honour to be given this award by the Society."
"It is always such a fulfilling experience engaging the public with science and especially coming from a background which is underrepresented in the sector. I find it most rewarding when young people I meet follow up with questions on how they can get into science careers or a simple thank you for being an inspiration."
Dr Steve Cross said, "Hephzi really impressed us by organising projects to meet a specific audience need, and for her ability to put setbacks like a lack of funding behind her and still make fantastic engagement happen."
The awards will be presented at the RSB's Annual Award Ceremony on Thursday 13th October during Biology Week 2016.
The Society wishes to thank the Wellcome Trust for their support of the awards, and also this year's judges: Dr Steve Cross, Wellcome Trust Engagement Fellow; Dr Liz Granger, Young Scientist Centre manager at UCLan; Farrah Nazir, national programmes adviser at the Wellcome Trust; and Rosie Waldron, engagement manager at the British Science Association.