News
RSB and Heads of University Biosciences name HE Biosciences Teacher of the Year 2018
The Royal Society of Biology and its Special Interest Group (SIG) Heads of University Biosciences (HUBS) have named Dr Dominic Henri as HE Biosciences Teacher of the Year for his dedication to pedagogical research and innovative teaching.
Dominic, a lecturer at the University of Hull and director of the zoology programme, has received the HE Biosciences Teacher of the Year Award in recognition of his pedagogical research, his commitment to helping students develop essential learning skills, and his novel approaches to teaching.
The HE Biosciences Teacher of the Year Award, sponsored by Oxford University Press, recognises leading educators in UK universities, highlighting the invaluable role they play in teaching and inspiring the next generation of bioscientists.
The award was presented at the HUBS Spring meeting on 18th April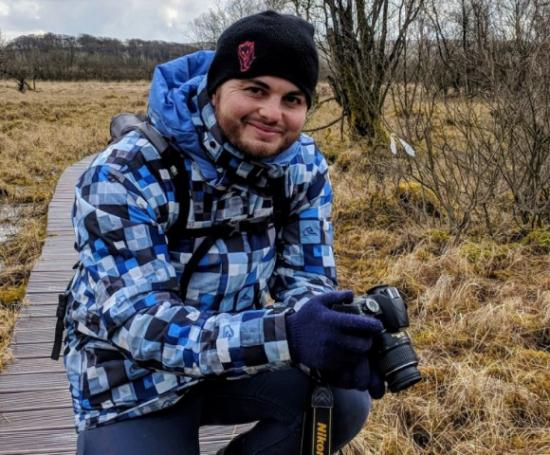 Dr Dominic Henri has been recognised for his outstanding work in teaching and pedagogical research
Dominic has developed a comprehensive teaching strategy that ensures each graduate develops critical thought processes, whilst also looking at new ways to enhance the way students study and learn.
Dominic also provides guidance to his colleagues through his 'Assessment Therapy' scheme, in which he provides individual support sessions for biology and geography academics to talk about issues on their own modules and consider ways in which challenges can be overcome.
Alongside teaching, Dominic sits on the Royal Society of Biology's Early Career Lecturers forum as a voice for teaching-focused biology academics and provides guidance to colleagues who wish to broaden their awareness of conservation and community engagement.
Dominic said of receiving the award: "I have enjoyed the whole award undertaking, it has provided the self-validation as a lecturer that the PhD and research experience never could. It has helped carve-out that time for reflection and introspection that is so integral to personal development.
"I would like to thank the Hull STEM Ed group for their unwavering support and discourse, and the University of Hull biology students for going along with my "unconventional" teaching methods and feeding into the experience of future cohorts.
"I would also like to thank the Royal Society of Biology for hosting this award that has supported so much excellent practice, and encourage as many people as possible to engage with the process."
The Chair of HUBS and panel member for the award, Dr Sandra Kirk, said of Dominic's success: "It has been a great pleasure to be involved in judging the award this year.
"Applications from across the sector, from staff using a variety of approaches to ensure student engagement and stimulation were a pleasure to read, and our finalists gave a set of thought-provoking presentations.
"There is clearly a lot of good practice and much more in the pipeline for the future.
"Our winner, Dominic Henri, gave an inspirational presentation to the panel, clearly outlining the pedagogic background to his work in self-confidence building in students, and how he is spreading this out locally through offering 'assessment therapy sessions' to fellow staff, and more widely through peer-reviewed publication."
Along with his prize, Dominic will also receive the Ed Wood Memorial Prize of £1,000 and one year's free subscription to an Oxford University Press journal of his choosing.
HUBS, a special interest group of the Royal Society of Biology, acts as a forum for discussion of higher education policy; teaching and learning; and research in the biosciences. The HUBS membership includes over 80 higher education institutions in the UK, represented by biological and life science heads of departments and subject leads.