News
Royal Society of Biology's Higher Education Bioscience Teacher of the Year 2020 announced
The Royal Society of Biology Heads of University Biosciences (HUBS) have named Dr Sue Jones, associate head of school: biosciences at York St. John University, as winner of the HE Bioscience Teacher of the Year Award 2020.
The HE Biosciences Teacher of the Year Award, sponsored by Oxford University Press, recognises leading educators in UK universities, highlighting the invaluable role they play in teaching and inspiring the next generation of bioscientists.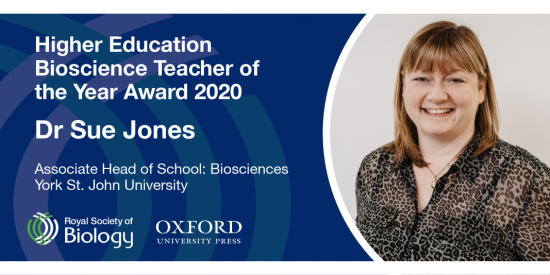 Sue received the Ed Wood Memorial Prize of £1,000, £250 worth of Oxford University Press books, and one year's free membership of the Society.
Sue received this award in recognition of her enthusiasm and commitment to removing barriers and increasing access to higher education, as well as improving graduate outcomes and employability.
Sue's award nomination case study covered her holistic programme design that embeds transferable skills, laboratory competencies and subject-specific knowledge, with an emphasis on personalised learning.
Her teaching methodology includes considered use of a variety of assessment techniques, carefully placed throughout the programme of study, with the aim of developing the students' ability to evaluate their own progress and build confidence.
In her case study, Sue showed that all students achieve well academically, regardless of their wider demographic background, gender, age, declared disability, ethnicity, prior qualifications or first-in-family status.
HUBS executive committee member, Dr Sandra Kirk, one of the judges for the award, said of this year's competition: "All three finalists provided engaging and thought-provoking presentations, clearly illustrating commitment to the student experience.
"In a closely fought contest, Sue Jones came out on top. The panel were impressed by her dedication, enthusiasm, and continued engagement with approaches to removal of attainment gaps based on best pedagogic practice."
Sue said of winning the award: "Putting my case study together has been an interesting and affirming experience. Analysing module data in detail across all levels of study and for all students to date has really shone a light on the inclusive and personalised approach that we use, and highlighted its success. It is great when a plan comes together!"
"I want to thank my amazing team for helping me to deliver the programme at York St John University. Our amazing outcomes would not be possible without their commitment, dedication, input and valued friendship."
Also shortlisted for the award were Dr Peter Klappa from the University of Kent, and Dr Alfred Thumser from the University of Surrey, both of whom demonstrated their great enthusiasm and dedication to the wellbeing and achievement of their students.