News
Plant Health Week takes root at RSB
10-16 May 2021 is National Plant Health Week in the UK, providing an opportunity to raise awareness of the importance of healthy plants. The initiative is part of the activity marking the International Year of Plant Health.
Protecting plant health helps to protect the essential contributions that plants make to food production, ecosystem infrastructure, biodiversity and more. The RSB has several activities to support this vital work, and the people who undertake it.
This summer, the RSB have arranged 10 placement projects for undergraduates to work with leading plant health researchers, through our Plant Health Undergraduate Studentships programme. The scheme, now in its fourth year, aims to provide training opportunities for undergraduates, while producing research relevant to current priorities in plant health.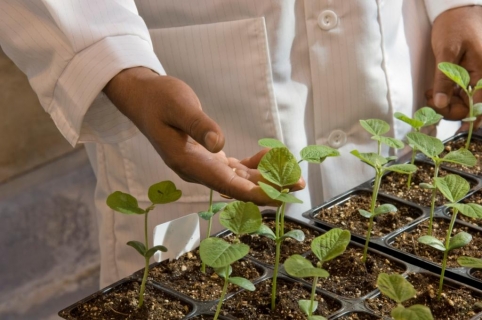 It is run with support from Defra, British Society for Plant Pathology, the Crop Protection Association, SCI Horticulture Group and the David Colegrave Foundation.
The RSB operates the Plant Health Professional Register, created in 2016 to develop skills and training in the sector. The RSB continues to accept applications to the Plant Health Professional Register which now has around a hundred registrants from a diverse range of backgrounds including industry, academia and NGOs.
The register is suitable for anyone working with plants and the natural environment who can demonstrate their competency in plant health and biosecurity. Plant health professionals joining the register become part of a growing community and gain the opportunity to network with a wide-range of different professionals, with the register also being a way for professionals to gain recognition of their work.
In March 2021, the RSB hosted the Plant Health Summit for Future Leaders. The event engaged around 70 early career professionals from across plant health, and encouraged the formation of networks between those working in industry, government, academic research and non-governmental organisations. The event was organised in partnership and with the support of other key organisations in plant science.
Plant health and plant science form a key part of the RSB's work, across our policy responses to Government, features in The Biologist magazine, the development of a new ideal school curriculum framework, and in our careers activities, such as the annual Bioscience Careers Day event.
The Society's Member Organisations involved in plant science meet regularly through the RSB Plant Science Group. The Group's vision for UK plant science and plant health is contained in its 2019 report, Growing the Future.
The RSB's Plant Science Newsletter is a monthly round-up of science and policy news about plant science. To stay up to date with RSB activities and UK and international news in plant science, sign into mySociety, choose 'Subscribe to our publications' and select the Plant Science Newsletter to subscribe.