News
RSB and the Biochemical Society launch new journal to tackle biology's hot topics
The first issue of Emerging Topics in Life Science, a new journal jointly owned by the Royal Society of Biology and the Biochemical Society, has been published.
Each issue of the journal will feature reviews on a new or growing topic and will be guest edited by an expert in the field.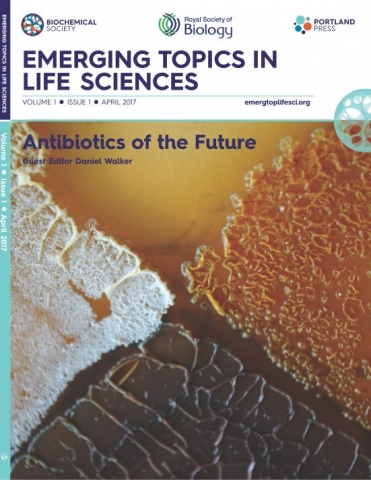 The first issue, entitled "Antibiotics of the Future" and edited by Dr Daniel Walker of the University of Glasgow, features articles on inhibiting quorum sensing, treating bacterial biofilms and a review of novel therapeutics, all of which are available online now.
Subsequent issues in 2017 and 2018 will focus on topics including mechanobiology, genome editing, organoids, computational biology, climate change bioscience and the microbiome.
In an introductory editorial, Editor-in-chief Professor Colin Kleanthous, from the University of Oxford, writes that the journal will "support the needs of researchers and students, as well as those moving into new fields, who need easy-to-digest reviews of rapidly moving areas."
"Although the scope and potential for topics is very broad, this new journal will focus on interdisciplinary areas of life science research that have yet to be reviewed extensively in the literature.
"I hope you will agree that such an up-to-date review or overview of emerging topics, unfettered by traditional disciplinary boundaries, will be helpful to those of you who are early-career scientists and even seasoned researchers."
RSB members and Fellows qualify for discounted rates on the journal, which was officially launched at the Experimental Biology Expo in Chicago yesterday.
For more information visit www.emergtoplifesci.org