News
Life Sciences Minister on personalised medicine mission
George Freeman MP has said his "mission" is to reform the biomedical sector so that it is focused around personalised medicine.
The Parliamentary Under Secretary of State for Life Sciences told a meeting of the Society of Biology's Member Organisations that the current method of developing drugs is "unsustainable" and "unaffordable" for industry and the NHS.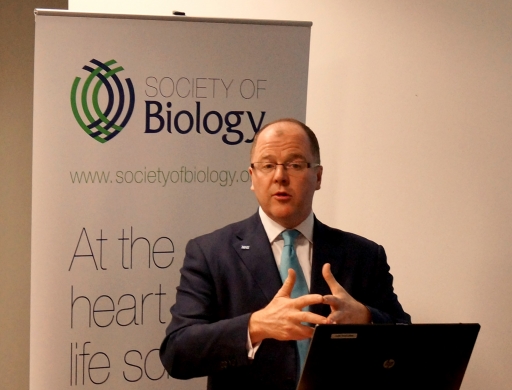 "So many drugs fail in late stage trials as we try to get the dose right so it works for everyone without side effects. The more we know about genomics the more we know that's not what we need, we want drugs designed for particular patients.
"The new landscape is about using deep insights from informatics and genomics to allow us to target much better and build treatments around patients. And to put medical science back into hospital, where it originally was.
"In Government my main mission is to build a policy framework that supports that reorientation of the sector so that it is genuinely patient-centred."
Freeman is responsible for life sciences and NHS innovation, and works within the Department for Business Innovation and Skills. His previous career saw him managing investments in bioscience start-ups and running a predictive toxicology software company.
"I'm the world's first minister for life sciences and my mission is also not to be the last," he said, adding that all areas of Government recognised the importance of the UK biosciences to generate growth and meet important challenges.
"All our mainstream parties are taking this agenda seriously. This sector needs cross-party consensus and investment security and I think it is a sector where we have carried the baton on well and the Punch and Judy of politics haven't got in the way."
He said the biosciences are 'crucial' to the UK's economic recovery, to help geopolitical tensions around the world and to support emerging markets.
"My message to the prime minister was that we really need to elevate the three pillars of bioscience – food, medicine and energy, and he absolutely gets it, as does the chancellor."
"When we are still carrying a trillion pounds in debt, and still adding to it, facing a set of very tight spending measures, we are not reducing our support for science. The challenge is we've got to make sure every pound we spend unlocks investment and trade."
Freeman also said he wanted each Government department to think about how a more scientific approach might help deliver more from less.