News
Hull lecturer wins national teaching award
Dr Katharine Hubbard, from the University of Hull, has won the Royal Society of Biology's prestigious Higher Education Bioscience Teacher of the Year Award 2016.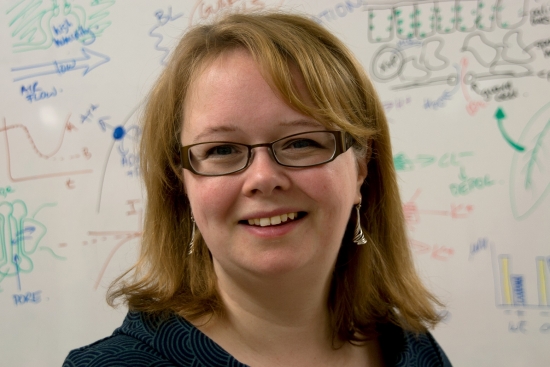 The £1,000 prize was formally awarded yesterday evening at the Spring Meeting of the Heads of University Biosciences (HUBS) in Leicester.
Dr Hubbard, a lecturer in biological sciences, developed a pioneering course model whilst she was a teaching fellow in Cambridge, in which undergraduates helped to produce learning materials for students in the year below. This award recognises her exceptional commitment to student learning.
On receiving news of her achievement, Katharine said: "I'm absolutely thrilled to have won the award. To have my teaching recognised in this way is fantastic, and I am so thankful to all the students I have worked with – they are at the heart of everything I do and I couldn't have won without them. Winning this award highlights the positive contribution that teaching fellows can make to undergraduate education, and I'd really like to thank the Royal Society of Biology for valuing my work in this way."
One of her first year students said: "Katharine approached lectures with an energy and passion to teach like no other. We all felt like she personally cared that everyone in the room achieved their absolute best."
The Royal Society of Biology offers the annual award to teachers who have shown an outstanding contribution to higher education in the biosciences. The scheme rewards lecturers who have developed innovative and inspirational teaching methods, as well as undertaken professional development and supported colleagues.
Chair of the judging panel, Peter Heathcote FRSB, professor of biochemistry at Queen Mary University of London said: "In a competitive field Katharine impressed the judges with both her enthusiasm for student-centred teaching, and her work with four undergraduate interns to prepare questions and videos to improve the student experience of first year practicals. This is a significant problem for universities, as students arrive with a very diverse range of experience and knowledge of practical teaching."
"At the time of her application, Katharine was a teaching fellow at Cambridge on a fixed-term contract. What was so impressive is that she has had a significant and positive influence not only on teaching delivery and course content in the Department of Plant Sciences at Cambridge but also on other departments. Her project, which was the first at Cambridge to adopt the 'students as co-producers model', is being considered for roll out more widely within the university."
This year's competition yet again saw a high calibre of entrants. Dr Hubbard faced stiff competition from finalists Dr Lesley Morrell, a senior lecturer in evolutionary biology from the University of Hull, and Dr Kevin Coward, director of the MSc in clinical embryology at the University of Oxford, who both also received high praise from the judging panel.
Candidates were nominated by their colleagues who described how their teaching practice had benefited the students' learning experience. The three finalists wrote case studies and presented them to a judging panel in London, followed by an interview. Katharine's case study is now available on the RSB website.
Dr Hubbard was awarded with the Ed Wood Memorial Prize of £1,000; one year's subscription to an Oxford University Press journal of her choice; and one year's free membership of the Royal Society of Biology. The two finalists will also receive RSB membership and a prize of £150.