News
HE Bioscience Teacher of the Year shortlist announced for 2022
The Royal Society of Biology is pleased to announce the shortlist for the Higher Education Bioscience Teacher of the Year award for 2022.
The yearly award celebrates outstanding achievement in the teaching of biosciences at university level.
The shortlisted candidates have each shown individual excellence in teaching through innovative and inclusive teaching practices, dedication to personal development, and commitment to supporting colleagues within and beyond their own institution.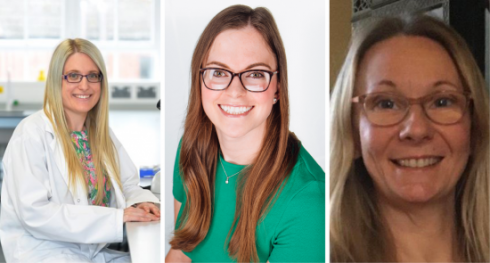 The shortlisted teachers, from left to right: Dr Jo Rushworth, Dr Emma Yhnell and Dr Stephany Veuger
Dr Emma Yhnell is an award-winning science communicator and lecturer based at Cardiff University. A Fellow of the Higher Education Academy, Emma's approach to teaching uses science communication to actively engage her students.
Emma works to encourage her students to embrace challenges and to value their scientific skills. Emma supports students to develop their transferable skills, to enhance their employability and to look for future opportunities within academia and beyond.
Emma is also the Equality and Diversity representative to the British Neuroscience Association, and is motivated to make Higher Education more "inclusive, accessible, and fun."
Professor Jo Rushworth is Director of Education and Students in the College of Science at the University of Lincoln, having previously been Professor of Bioscience Education at De Montfort University.
Jo's pedagogy embodies the principle of Universal Design for Learning as they strives to ensure "every student feels represented and is able to excel."
As a National Teaching Fellow and Biochemical Society's Teaching Excellence Award winner, Jo has already been recognised for inspiring and influencing bioscience teachers. Jo is also a co-creator of lecturemotely, a site that allows lecturers and institutions to share resources during remote teaching.
In partnership with their students, Jo has also pioneered the Student Lecturer initiative, a scheme based at De Montfort University which looks to create curricula, teaching, learning and assessments in equal partnership with teachers and students.
Jo has also been a Mandarin student for two years, taking exams alongside their own students in order to experience first-hand what it is like being a student today.
Dr Stephany Veuger is a Senior Lecturer in Biomedical Sciences and Teaching Excellence lead for the department of Applied Sciences at Northumbria University.
She has a strong track record in learning and teaching within areas that include e-learning, academic literacies, diversity, inclusivity and accessibility. Stephany takes pride in helping students to develop a passion for science and the world around them.
Specialising in cancer drug development, she particularly enjoys bringing difficult concepts to life through real world examples.
Stephany strongly believes that independent learning offers a route to lifelong learning, and her vision is to deliver innovations that maximise the confidence of their students and the satisfaction of the student experience.
Stephany strives to create a learning environment that fosters critical thinking, enabling students to become confident self-directed learners. She also actively promotes a culture where "individual difference is appreciated, celebrated and respected."
The Higher Education Bioscience Teacher of the Year award is sponsored by Oxford University Press and Heads of University Biosciences (HUBS), a Special Interest Group of the RSB.