News
George Freeman opens new bioscience hub
Minister for Life Sciences, George Freeman MP, officially opened a new biosciences hub in central London on Wednesday evening.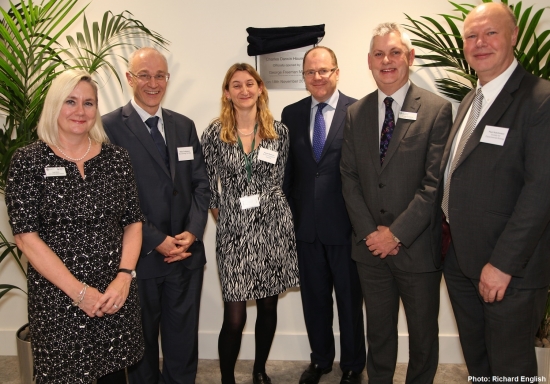 Freeman joined leading figures in the life sciences, including Presidents, CEOs, Fellows and members of several Learned Societies; and Professor Jackie Hunter, chief executive of BBSRC, at the unveiling of a plaque and to declare Charles Darwin House 2 (CDH2) officially open.
The new premises follows the success of Charles Darwin House, where the joint owners of the two buildings, all bioscience societies, are based: Royal Society of Biology, Biochemical Society, British Ecological Society, Society of Experimental Biology and Microbiology Society. CDH2 will be home to organisations including the Landscape Institute, World Obesity and AMRC.
George Freeman was very pleased to open CDH2, speaking of the importance of biology as the science of the 21st century:
"As the world expects and demands to go through industrial and agricultural revolutions in emerging economies, this is an extraordinary opportunity for our science base and our knowledge economy.
"We've had the age of physics and the age of chemistry, but this is the age of biology. Bioscience offers the opportunities, in food, medicine, energy, and industrial biotech more generally, to really make this a special time. We can harness our understanding of the body's own systems: we can turn cells into factories, use our immune system to combat disease, and use the extraordinary power of bioscience, especially where food, medicine and energy meet, to unlock new technologies and new solutions, start new companies, generate wealth, and support health, wealth and the 21st century economy, and then export it."
Freeman said that the Society's new building would be a hub for showcasing the best of bioscience to the world; "most people in this public policy game talk loud and deliver later. I think biology has delivered hugely and we're catching up now in telling the story."
"In the field of bioscience there are some quite big ethical issues that have to be discussed; GM in agriculture, genetics in medicine; and we need a stronger voice of Learned Societies helping to inform a better science-led debate about the policies required," he said.