News
Fossil researcher takes gold for biology display in Parliament
Dean Lomax, 25, a palaeontologist at The University of Manchester, won the gold award at a competition in the House of Commons, for the excellence of his biological research, walking away with a £3,000 prize.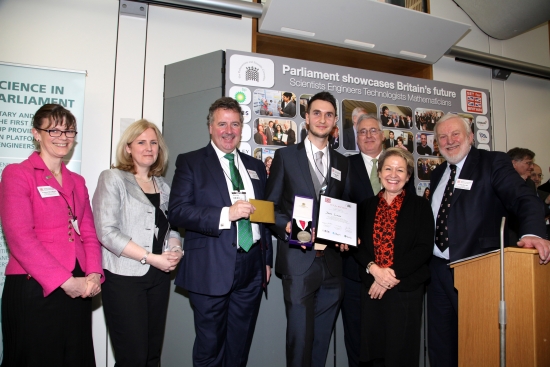 Dean, from Balby, Doncaster, presented his research to dozens of politicians and a panel of expert judges, as part of the poster competition SET for Britain, on Monday 9th March.
His research about discovering a new species of Ichthyosaur, an extinct marine reptile, was judged against 59 other shortlisted researchers' work and came out a winner.
Dean said: "I am very passionate about broadcasting what I do. I think it is vitally important that others learn about palaeontology, essentially the history, diversification and evolution of life on our planet."
"It is truly an honour to win this prestigious award. To think that my research has been acknowledged in such a prominent capacity helps to show the importance of palaeontology, and that what I contribute has meaning. This has given me an incredible boost to continue to aim high, work hard, and communicate further the study of the science I love. This is a win for British palaeontology. Thank you to everybody involved, what a magnificent event."
Dean discovered the specimen in the collections of Doncaster Museum and Art Gallery in 2008 and spent over five years researching in order to determine that it was a new species; the first of its kind found for almost 130 years.
When asked how he would use his prize money, Dean said: "I'm going to put it towards investigating other ichthyosaurs in museum collections. Who knows, there might yet be other new species just awaiting rediscovery!"
SET for Britain aims to help politicians understand more about the UK's thriving science and engineering base and rewards some of the strongest scientific and engineering research being undertaken in the UK.
Dr Mark Downs FSB, chief executive of the Society of Biology, said:
"Scientists and politicians both have major roles in addressing some of society's biggest challenges, from climate change to food security. SET for Britain is a rare opportunity for politicians to meet some of our most promising young scientists and understand their work."
"It is important that MPs make policy decisions informed by evidence, and a greater mutual understanding between MPs and scientists will improve this. This is a message that is even more important just ahead of a General Election. The next Government needs to ensure the UK continues to lead the world in biological research where we have enormous strength."
Tom Crotty, Director of INEOS Group AG, sponsors of the Gold Medal in the Biological and Biomedical Sciences Section, said:
"It is crucial that there continues to be investment in skills to provide the next generation of scientists and engineers."
"For manufacturing to thrive, the UK needs a large and growing reserve of people with the knowledge and skills to deliver world-class manufacturing and research & development."
"We're delighted to support SET for Britain as an opportunity to celebrate the success of our early career scientists and we hope it will convince politicians to invest even greater effort to ensure the next generation of scientists and engineers come to the fore."
The Parliamentary and Scientific Committee run the event in collaboration with the Society of Biology, the Council for the Mathematical Sciences, the Institute of Physics, The Physiological Society, the Royal Academy of Engineering, the Royal Society of Chemistry and the Society of Chemical Industry, with financial support from INEOS, BP, Essar, Clay Mathematics Institute, Warwick Manufacturing Group (WMG), Institute of Biomedical Science, Wiley and the Bank of England.