News
Former UK IBO team member wins University Challenge
Earlier this week Gonville and Caius College, Cambridge, won this year's University Challenge. The team was captained by Anthony Martinelli, a former competitor in the International Biology Olympiad (IBO).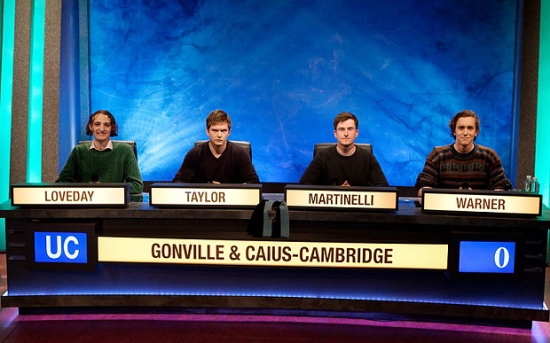 The Gonville and Caius team beat Magdalen College, Oxford, 255-105 in the final of this year's competition.
Captain, Anthony Martinelli won a silver medal for the UK in 2008 when the IBO was held in India. Speaking after his University Challenge win, he said:
"The whole experience was fantastic - as with the IBO, the sole downside is that you're only allowed to do it once!
"I found it funny that the last question of the whole competition was on botany - the only reason I have any knowledge of the suffix -aceae is an afternoon spent at Kew Gardens training for the Biology Olympiad."
After his first University Challenge appearance, he wrote an article for the Society of Biology blog, in which he supported the Society's goal of hosting the 2017 IBO in the UK:
"It would be a shame to miss our chance to demonstrate to the young biologists of 2017 that the UK remains a serious academic force, information which they would no doubt bear in mind when considering international collaborations over the course of their own careers."
The Society of Biology and the volunteers of UKBC, who run both the British Biology Olympiad and UK team selection for the IBO, would like to congratulate Anthony and his team on their achievement.
Neil Richards a member of the UKBC committee said:
"I taught Anthony throughout his career at Merchant Taylors' School and he was probably the best A level Biology student I have ever encountered. He not only knew what was required by the specification but displayed a wide interest around the topics and was widely read as evidenced by his performance in the International Biology Olympiad and University Challenge."
The UK team for the 2015 International Biology Olympiad has just been announced!