News
Buff-tailed Bumblebee Voted Favourite UK Insect
The buff-tailed bumblebee has been crowned the Favourite UK Insect after winning a public poll of almost 7,500 votes run by the Royal Society of Biology (RSB).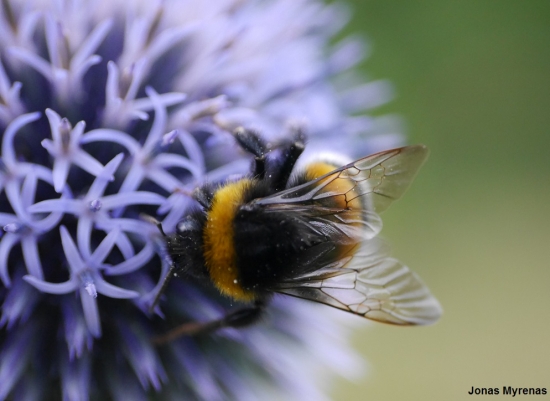 Announced as part of Biology Week, the buff-tailed bumblebee, Bombus terrestris, is most certainly 'queen bee', securing victory with over 40% of the votes, a convincing majority of 3,033.
Dr Rebecca Nesbit MRSB, entomologist and member of the Royal Society of Biology said:
"Seeing bumblebees buzzing around flowers in our gardens is a highlight of the British summer. I find it fascinating to watch them hard at work collecting pollen and nectar to keep their colony alive and thriving, and it's great to know that so many people agree!
"We're also acutely aware of the services which insects, and bees in particular, provide for us. Many crops and wild flowers alike depend on bumblebees for pollination. They contribute to our economy, our countryside and the food we eat."
Watch Dr Nesbit reveal the winner with live bees from Rothamsted Research on CBBC Newsround.
The buff-tailed bumblebee beat nine other contenders to claim the title:
1st Buff-tailed bumblebee (40.5%, 3,033 votes)
2nd Seven-spot ladybird (15.2%, 1139 votes)
3rd Emperor dragonfly (14.5%, 1084 votes)
4th Small tortoiseshell butterfly (9%, 674 votes)
5th Stag beetle (6.5%, 487 votes)
6th Marmalade hoverfly (5%, 373 votes)
7th Green shieldbug (2.8%, 209 votes)
8th Garden tiger moth (2.7%, 201 votes)
9th Black garden ant (2%, 153 votes)
10th Large bee-fly (1.8%, 131 votes)
The bumblebee makes its home in almost every lowland environment throughout the UK. Most often found buzzing its way around your garden; the bumblebee is also the main pollinator of a large proportion of UK crops, including strawberries, blackberries, tomatoes, squash and courgettes. Pollination services are therefore of critical economic importance, contributing over £400 million per year to the UK agricultural industry.
There are over 20,000 insect species in the UK but numbers are declining. The RSB poll was launched to encourage people to give UK insects the appreciation they deserve. Ecologists developed a shortlist of 10 of their favourite UK species and the poll was open to the public online in August and September 2015.
David Urry, member of the Royal Society of Biology said: "Insects are ubiquitous, diverse and exhibit a truly fascinating array of behaviours and traits. They also play a fundamental role in ecosystems, and human life on earth is dependent upon their continued existence. However, they are too often ignored, overlooked, or considered little more than a nuisance."
Whilst the buff-tailed bumblebee is not a rare bee, like many other species of insect, their habitat is under threat from human activities.
There are a number of ways to help wild bees in the UK including: sowing 'bee-friendly' plants; being careful not to mow flowers until late summer; joining habitat conservation groups; helping raise awareness for declining bee species; and encouraging local MPs to call for a national monitoring programme to assess populations of wild pollinators.
Find out more about the poll, insects, and how to monitor and protect them.
Read more on the BBC, CBBC, and Guardian.