News
Biology Week 2014 a huge success
Last week we celebrated the biggest Biology Week yet, with over 100 events and activities all over the UK and beyond. Everyone from children to research scientists got involved in debates, bug hunts, dinosaur digs, and Big Biology Days, in celebration of the life sciences.
In London, we kicked off the week with our annual award ceremony, where we announced the winners of our Photographer of the Year competition, Book Awards, Science Communication Awards, and BioArtAttack competition.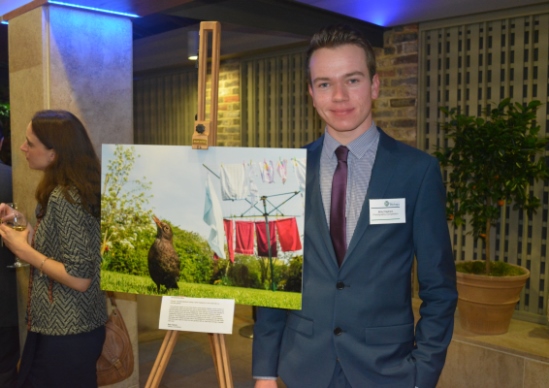 On Wednesday we held a Parliamentary Reception at the House of Commons. Greg Clark MP, the newly appointed Minister for Universities, Science and Cities, urged the audience including policy makers, academics and members of the Society of Biology, to "keep faith with the institutions responsible for success and respect the foundations laid down by predecessors".
Thursday night saw a lively debate on malaria eradication at the prestigious Royal Institution, attended by over 200 people. Four eminent malaria experts argued the pros and cons of trying to eradicate the disease, chaired by Professor Chris Whitty from the Department for International Development.
We launched our Starling Murmuration Survey on Friday. We've teamed up with the University of Gloucestershire to find out why starlings undertake spectacular aerial displays, by encouraging people across the UK to send in information about their sightings.
On Friday, we debated How will biology change the world? to celebrate the launch of the Biology: Changing the World project. Speakers argued that neurotechnology, food security, biofuels and personalised medicine, would be the area of biology to change the world most.
Four of our Big Biology Day science festivals took place nationwide during the week. People learnt about geology and medical dilemmas in Cardiff; created their own bacteria and parasites in Glasgow; dissected pellets in Essex and made medicines in Cambridge. Fun scientific activities were organised by organisations including the British Science Association, British Pharmacological society, Biochemical Society and Jeans for Genes.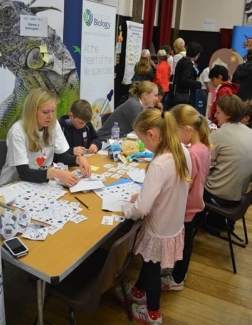 Our Member Organisations held interactive biology events, such as UK Fungus day organised by The British Mycological Society, which included events at Cambridge Science Centre and Kew Gardens. The Physiology Society organised 'Physiology Friday', with numerous competitions including Ode to Physiology and Bio Bakes! The British Naturalists' Association also organised a brilliant bug hunt in Essex.
Our branches ran some great events including: a lecture on Antarctic exploration and Scott's loyal assistant, Edward Wilson, from the London branch; a look at the unexpected role of plants in drug development from the Thames Valley branch; and insights into equine welfare, from the Northern Ireland branch.
Biology Week was also celebrated in classrooms across the nation, with hundreds of schools completing our quizzes, and using our Biology Week resources. Our spotlight schools: Hereford Cathedral School and Altrincham Girl's Grammar School organised great programmes of Biology Week activities, including debates, a dissection club and a wildlife photography competition.
Overall, it was a fantastic week of biology celebrations, with researchers, families, and students all getting involved. Take a look at the highlights of Biology Week 2014 on our Facebook or Storify, or read our blog.
The countdown to Biology Week 2015 has begun!