The Optics of Life – A Biologist's Guide to Light in Nature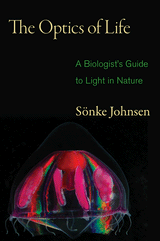 Sönke Johnsen
Princeton University Press, £30.95
It is rare for a book to begin with the author admitting to not being sure why he wrote it. But that is how Sönke Johnsen, associate professor of biology at Duke University, opens his splendid portrayal of the importance of optics in vision, ecology, botany, animal behaviour, neurobiology and molecular biology. It's also unusual for a scientist, compiling a detailed and comprehensive yet highly accessible monograph, to assert that, while not "conventionally religious", he is often "overcome by this world" and wishes to share his amazement at "what is all around us".
While commendably up to date, The Optics of Life is also composed in an enticing style, pruned of all unnecessary jargon. It will speak not only to biological scientists, but also to physicists interested in the countless roles played by light in the natural world.
Following introductory chapters on light's basic properties and the units and geometry of its measurement, Johnsen surveys topics such as absorption, scattering, fluorescence and polarisation. One commentator said that the book would have saved him "a lot of pain" if it had been available when he began his career in photoecology.
I recommend Johnsen's account of light in nature to one group of readers in particular: those about to embark on a textbook of their own. From the first sentence ("Of all the remarkable substances of our experience – rain, leaves, baby toes – light is perhaps the most miraculous"), this is a model of how to infuse high-level scientific information with colour, humanity and even humour.
Dr Bernard Dixon OBE