The Clinic and Elsewhere: Addiction, Adolescents, and the Afterlife of Therapy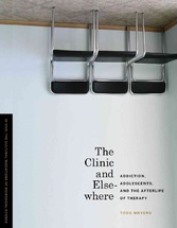 Todd Meyers
University of Washington Press, £15.99
Buprenorphine is a pharmaceutical used for opiate withdrawal and replacement therapy. In The Clinic and Elsewhere, anthropologist Todd Meyers takes you on a journey with a small group of Baltimore adolescents who have used this drug to deal with their own substance addictions. Central to this compelling ethnographic monograph, as indicated by its subtitle, is what the author calls the 'afterlife' of therapy: what happens to teenagers following buprenorphine treatment?
Conceptually, Meyers draws throughout on the French philosopher of medicine and biology, Georges Canguilhem, particularly his distinction between curing and healing. In the former case, an individual's physiological normality is restored, whereas the latter implies a more profound remaking of the body, the self and the wider social context – to heal is to produce something new. Meyers' focus is the way that buprenorphine (sometimes) helps to heal.
As an anthropological study, the concerns here are not standardised clinical outcome measures, although Meyers certainly does not dismiss these. Instead, they are the less tangible and more complex biographical details of former adolescent drug-takers' lives.
These are not straightforward, and Meyers wisely eschews any attempt to use his ethnography as a tool for making predictive claims. Rather, he seeks to reveal, with great sensitivity, the great degree to which buprenorphine is only one part of a wider ecology of persons, places and substances that shape the lives of adolescents. At the same time, he reflects anthropologically on a powerful and often neglected issue in the social science of biomedicine: what happens when participants die?
The Clinic and Elsewhere is, of course, written for fellow anthropologists rather than biologists, but there is much to recommend here for scientists concerned with what happens to the substances they develop once they have left the walls of the laboratory, and how young lives are impacted and changed in the process.
Dr Martyn Pickersgill MSB