Exploring Britain's Hidden World – A Natural History of Seabed Habitats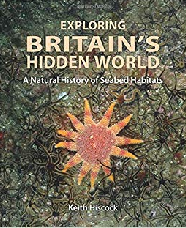 Keith Hiscock,
Wild Nature Press, £25.00
Starting with a history of exploration of seabed habitats and sampling methods, this book is thorough in its treatment of the subject. However, although written by a highly experienced expert in the field and based on 50 years of research; the author has recognised that a coffee table format is the best use of the many and wonderful photographs he has gathered for the book.
Hiscock clarifies in the opening pages that because so much literature is now available openly online that there is no need to include references in this type of book. Anyone who is interested in learning more should very easily be able to use clues in the text to identify suitable literature, to increase their knowledge, or simply find scientific articles that cover the subjects featured in the photographs.A useful glossary is given at the end of the book alongside a good index of subject matter covered.
Exploring Britain's Hidden World includes an extensive range of photographs from the seabed beyond low water and including habitats beyond this down to 100m depth in the sea around England, Scotland and Wales.
This book is a fascinating insight into a hidden world of beautiful but sometimes fragile habitats. It's the sort of book that captures the excitement of scientific fieldwork so well, that after reading the book, you might just want to sign up for diving lessons and to buy yourself a wetsuit.
This is a fantastic book which combines superb photography with some exciting science.
Dr Amanda Hardy MRSB