Garden Practices and Their Science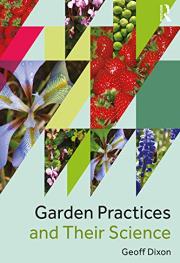 Geoff Dixon
Routledge, £29.99
This textbook's target audience is trainee horticulturalists and those gardeners who wish for a practical introduction to the topic that explains some of the basic science that underpins garden practices. These dual objectives are underlined by the structure of the chapters, each of which is divided into two sections: 'Garden Practices' and 'Underpinning Knowledge'. There is also a short 'What Have You Learned?' to end each chapter.
The eight main chapters centre on topics such as growing potatoes or legumes, with each leading into different themes, such as the soil, plant reproduction and inheritance. Simple experiments are included to help illustrate relevant principles, some of which would work well as school demonstrations or hands-on projects.
The writing style is clear and precise with abundant illustrations, and its approach is very much 'what to do'. The objective of the advice provided is the generation of the most abundant blooms or the most vegetables. There is very little on the broader context of gardens and gardening, which means the book does feel rather old-fashioned in places. The attitude is that voles and field mice in the garden are problems to be dealt with, and that insect pests should be sprayed. Contemporary views on the role of gardens in biodiversity conservation and the potential negative effects of chemicals for the environment are not considered.
Dr SG Compton