Do No Harm: Stories of Life, Death and Brain Surgery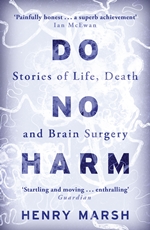 Henry Marsh
Weidenfeld & Nicolson, £8.99
This book can be read in many ways. It is the medical memoir of a neurosurgeon with decades' worth of experience working in the NHS and abroad. Or it is a series of fascinating, tear-welling case studies which will have you calling an ambulance the next time you get a headache. Or it is the controlled rantings of an old-fashioned, sardonic Englishmen who has had it up to here with government interference, targets and regulation.
Do No Harm is, of course, all of these things. But Marsh is not simply doing for neurosurgery what Arthur Kleinman achieved for chronic pain 25 years ago, for this book is more about the surgeon's brain than those of his patients. In fact, his greatest strength is his ability to tease out - with humour, reflection and most of all candour – the irreconcilable pain and heavy burden that one decision, no matter how seemingly rational or routine, might bring.
It is this human cost which Marsh reveals, writing frankly of his own struggles – self-importance, demoralisation, marital breakdown – and medical mistakes. These left patients mute, paralysed, dead and, though severe in his self-reflection, his evident desire throughout his career to do his best in trying circumstances imparts a warmth of feeling often lacking in modern texts about medicine as it is practiced.
In the epigraph, he quotes Leriche, who said that 'every surgeon carries within himself a small cemetery'. Do No Harm is a guided tour of Marsh's cemetery, at once sad and thought-provoking, full of eloquent diversions and close encounters with that most unintelligible thing: the human spirit.
D Cornish