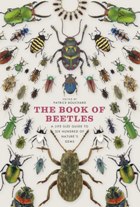 Edited by Patrice Bouchard
Ivy Press, £29.99
Pick up this book and prepare to be fascinated. Award-winning author and Coleoptera curator Patrice Bouchard explores the extraordinarily diverse world of beetles through detailed profiles and exquisite photography of 600 significant species. Each entry features a table of essential information, a distribution map and information on related species alongside a commentary on notable characteristics, surprising facts and details of cultural and economic significances of the species.
The introductory chapters offer an essential background on beetles with descriptions of their evolution, development, feeding behaviours and defence mechanisms. There are also chapters on conservation and the important roles beetles have played in society, from depicting gods to being eaten as delicacies.
What sets this book apart from others, however, is the photography. Enlarged, detailed images show jewel-like colours glistening from every page, showcasing the vast array of beetle shapes and sizes, making it a truly beautiful book to enjoy. Each large photograph is also accompanied by an image showing the beetle's actual size, with the titan beetle (Titanus giganteus) nestling neatly on half a page and Sphaerius acaroides barely the size of a pinprick.
While the book is based on the most up-to-date scientific information, it is also accessibly and enthusiastically written, providing an authoritative reference for coleopterists, as well as an educational and entertaining read for amateurs.
Rob Dawson