10 Reasons to love a whale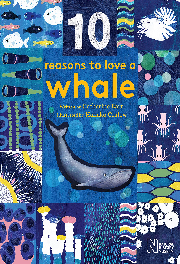 Catherine Barr
Lincoln Children's Books, £9.99
Back in the old days when I was a child this book would probably have been called something like '10 Amazing Facts about the Blue Whale!'. Perhaps books with these sorts of titles don't go down so well in our post-truth world, so instead we need to be shown how to love these mighty mammals.
In truth, the title is the only false note in this delightful little book aimed at young children. Each of the 10 'reasons' is very clearly stated in concise, clear language with beautiful accompanying illustrations by Hanako Clulow.
Critically, the tone is just right, neither talking down to the young readership nor being too pushy about environmental issues. My five-year-old – already a discerning reader and budding marine biologist – quickly added it to her pile of favourites where it makes frequent appearances among other, more traditional bedtime stories.
Ana C Malhado MRSB