The Pandemic Century: One Hundred Years of Panic, Hysteria and Hubris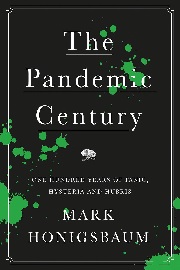 Mark Honigsbaum
Hurst & Company, £20.00 (hardback)
Infectious disease pandemics cause concern and captivate the imagination in equal measure. Public fear of the unknown and seemingly uncontrollable is fostered by news and social media and exploited by film and TV dramas.
In this eminently enjoyable read, medical science journalist Mark Honigsbaum builds on his previous single topic treatises on influenza and malaria to unravel our morbid fascination with pandemics and to examine the lessons learnt for future diagnosis, control and prevention.
A compelling narrative is constructed around nine major global disease outbreaks of the last 100 years, from Spanish flu (in 1918) to Zika (in 2015). Topics covered include pneumonic plague, tularaemia and Legionnaires disease, as well as the more recent HIV/AIDS, SARS and Ebola. The history of human pathogen pandemics is long and storied, so it is difficult to pick a representative list.
To be churlish it would have been good to see the swine flu crisis of 2009 receive more than a passing mention, given the hysteria at the time, as well as historical context setting by way of the Black Death bubonic plague that originated in China but decimated the population of Europe in the 1300s. Instead, the prologue steers a very different approach by comparing our arguably irrational fear of sharks to that we have for pathogenic microbes.
This book is an exhaustively researched and expertly written set of essays that together chronicle the past century's succession of unexpected disease pandemics and hint at ways in which to predict the next.
Prof Andrew Taylor-Robinson CBiol FRSB