Coral Whisperers: Scientists On The Brink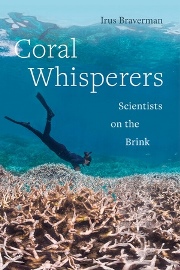 Irus Braverman
University of California Press, £21.00
The essence of the phrase 'coral whisperers' is explained in this book's introduction via a quote from Professor Les Kaufman of Boston University.
"The point of it is to diagnose problems with corals before they're actually dead… So we're listening to the corals, this is how they talk."
It's a complex story of despair and hope, with the author, a lawyer and diver, weaving a fascinating and human narrative into this major global problem. Braverman has spoken to and dived with many scientists who spend their days teasing out the answers to challenging questions about coral reef health through observation, monitoring, and testing down to the molecular and genetic levels.
This is not a scientific treatise, rather it is the record of the author's personal journey of discovery of corals and their myriad problems and possible solutions.
A significant part of the book is the verbatim record of a number of interviews she has conducted with scientists, including Ove Hoegh-Guldberg, director of the Global Change Institute at the University of Queensland; Jeremy Jackson, professor emeritus at the Scripps Institute of Oceanography; Ken Nedimyer, founder and president of the Coral Restoration Foundation in the Florida Keys; J Murray Roberts, professor at the University of Edinburgh; and the late and much-lamented Ruth Gates, director of the Hawai'i Institute of Marine Biology.
The book presents a snapshot in time of the individual thoughts, hopes and fears of many scientists, and as such is a very interesting and important record.
Braverman uses the quotes from her witnesses well and the reader gains an often inspiring insight into the thought processes of scientists who are deeply concerned about one of the key ecosystems on the planet.
Braverman brings her considerable legal experience to bear in the chapter 'Coral Law Under Threat', which discusses legal regimes that pertain to reef-building corals and, mainly, those that govern national waters. Indeed, as she points out, the project of managing corals needs close alignment between scientists and lawyers. This has not always happened in the past, but is essential if we are to protect this vital ecosystem on which so many humans depend.
Coral Whisperers is both an analysis of the issues underlying the future of coral ecosystems, and a call to arms, to scientists, lawyers, policymakers and the public. Strategic management of local and global threats, along with emerging molecular and other technologies, provide opportunities for us to improve the long-term conservation and persistence of coral reefs. Success in saving coral reefs, however, ultimately depends on the global community meeting or exceeding the science-based targets agreed to in Paris in December 2015.
I will leave the last word with Ruth Gates, to whom the book is dedicated: "There are many, many unknowns, but I feel that we're at this point where we need to throw caution to the wind and just try."
James Crabbe CBiol FRSB