Think Tank: Forty Neuroscientists Explore The Biological Roots Of Human Experience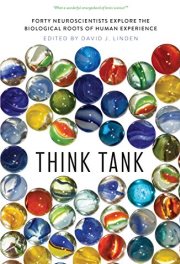 David J Linden (Ed)

Yale University Press, £18.99
David J Linden, professor of neuroscience at the Johns Hopkins University School of Medicine, has compiled an intriguing and insightful collection of essays for anyone interested in neuroscience and the human mind. The central question he asks 40 leading brain researchers is: 'What idea about brain function would you most like to explain to the world?'.
The nature of this question has inevitably led to essays on a diverse collection of topics, from genetics and anatomy to the psychology of human behaviour. Contributions from these diverse areas allow the reader to gain a broad and in-depth look around the cutting edge of research into the human mind.
A particularly engaging chapter, written by Terrence Sejnowski, explores how the neurotransmitter dopamine acts within the brain. Sejnowski explains where dopamine is located within the brain in some detail, and how the neurotransmitter acts as part of the reward system of human behaviour and the implications of this in terms of brain function. He goes on to mention how dopamine's role in decision-making is only just being fully appreciated, and how research from computer science and neural networks has helped revealed this.
I would highly recommend this book to anyone – science enthusiasts and professionals alike will find it an excellent read. Students may also benefit from this collection of similar but diverse essays, many of which would be useful as background information for certain study areas.
Callum Tebbatt, Student Affiliate