The Correspondence of Charles Darwin: volume 24, 1876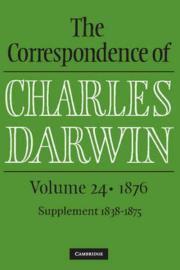 Frederick Burkhardt et al (eds)
Cambridge University Press, £95.00
The endlessly fascinating collection of Darwin's letters reaches 1876 with the great man in his 67th year yet showing little inclination to slow down. Indeed, Darwin's success meant that his books were being updated for new editions.
A second edition of The Variation of Animals and Plants under Domestication was published in that year, with reprints of other works. Darwin was so concerned with the work generated by revisiting older works that with his new publication in the same year, The Effects of Cross and Self-Fertilisation in the Vegetable Kingdom, he vowed to correct them only once and never revisit. This approach allowed him to develop new studies, which in 1876 was another botanical, The Different Forms of Flowers on Plants of the Same Species. As ever, though, it isn't just Darwin's scientific work that makes this series so compelling, it is the insight gained into Darwin the man and his life.
So we have Darwin sending ornithologist John Gould a present ahead of his emigration to Australia, observations on cherry flowers being eaten by squirrels and the language of domesticated poultry. The death of his daughter-in-law following childbirth and the distress to Darwin and his family bring home the precariousness of life in the late Victorian period.
A supplement included in this volume is a collection of 180 more recently discovered letters pre-dating 1876. The context of each letter is outlined with fine footnotes, there is a brief biography of all correspondents and a thorough, easily searchable index. Pleasure guaranteed for all with an interest in the history of science.
Professor Paul Ashton