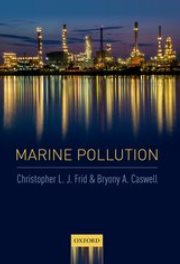 Christopher L J Frid and Bryony A Caswell
Oxford University Press, £34.99
This book is timely for three reasons. First, 2017 was the 50th anniversary of the wreck of the oil tanker SS Torrey Canyon. Second, while Professor R B Clark's excellent Marine Pollution ran to five editions from 1978, he died in 2013 and there was no sixth edition. Third, 2018 is the third International Year of the Reef and coral reefs are suffering damage from marine pollution.
The writers are both from Griffith University in Queensland, Australia, and Christopher Frid worked with Clark on several projects over 20 years. With such excellent provenance, this book fills an important gap in marine pollution literature.
The coverage is vast, from medieval English legislation on controlling waste disposal to the latest threats to fisheries from climate change. The print is clear, the diagrams and photographs are excellent, and there are boxes in each chapter that emphasise key examples.
There is a clear thread throughout, from solved problems through ongoing issues to emerging problems. The latter has sections on the release of toxic compounds, fracking, nanomaterials, noise and vibration.
The text is underpinned by scientific evidence, and each chapter has lists of resources and a bibliography. There is a good chapter on toxicology, which covers molecular biomarkers and population- and community-scale ecotoxicology. I particularly liked the chapter on the state of seven seas – case studies of regions that vary in their history of development, exploitation and regulation.
Marine Pollution ends with chapters on regulation, monitoring and management, and speculations about the future ocean. There is an objective yet optimistic feel about the book – the authors state that "the challenges to solving marine pollution are twofold: technical-regulatory and socioeconomic". While both these topics are mentioned, this book is based firmly on the science underpinning pollution.
The book is a well-written, comprehensive introduction to, and analysis of, marine pollution that should be required reading for anyone involved in the marine environment.
James Crabbe CBiol FRSB