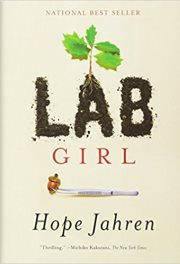 Hope Jahren
Knopf, £8.99
Hope Jahren's eloquent debut novel tells the story of a woman navigating life as a scientist, taking us from her rural childhood through several jobs, states, laboratories and a multitude of experiments, through to her professorship.
This is a unique story, but one likely to have parallels with your own journey through science and life – whatever stage you might be at.
Jahren's speciality is geobiology, but the real gem in this book is her ability to write about both science and human relationships – in all their inconsistent, unpredictable and sometimes downright infuriating glory.
Early in the story, we meet Bill, a student who becomes a stalwart accomplice and essential part of Jahren's life and laboratory, and we hear of the realities of trying to do what you love, the uncertain drudgery of funding applications, mishaps in the field and in the laboratory, and the euphoric moments of discovery.
All this is set out against moments of personal struggle and joy, and is interlaced with beautifully wrought meditations on botany, leaving you not only inspired by her journey, but better informed about the natural world around you.
Jacqueline Caine