Genomics & Personalized Medicine: What everyone needs to know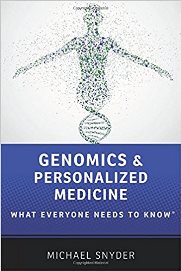 Michael Snyder
Oxford University Press, £10.99
The proponents of genomics and the ideal of personalised medicine it supports occasionally make big claims about its potential to revolutionise medical care and health in general. Michael Snyder recognises that the benefits of gene mapping, biochemically individualised pharmacology and continuous monitoring are both real and overstated.
As such, his Genomics & Personalized Medicine, part of Oxford University Press's What Everyone Needs to Know series, is a pragmatic appraisal and refrains from talking about the oft-predicted shifting of medical paradigms. That being said, the dramatically falling costs of DNA analysis and the proliferation of smart watches and Fitbits do mean that we are on a threshold of sorts, and this book offers a timely and balanced snapshot of a field in motion.
It covers some background genetic knowledge and then hurtles through highly targeted cancer treatment, solving mystery diseases, wearable medical devices and personal microbiomes before turning to pressing issues such as privacy, potential discrimination and cost of delivery.
Fairly comprehensive in scope, the chapters are brief enough to provide the necessary information, although they offer little else. For students new to the discipline, this is a decent starting point, and each section provides worthwhile springboards from which to explore further.
D Cornish