Collins Wild Flower Guide (Second Edition)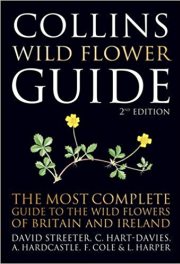 David Streeter, Christina Hart-Davies, Audrey Hardcastle, Felicity Cole and Lizzie Harper
HarperCollins
£24.99
Weighing in at nearly 1.2kg, David Streeter et al's solid tome is the only recent single-volume field guide to the whole of the semi-natural vascular flora of Britain and Ireland. As well as covering wild flowers and trees, it includes grasses, sedges, rushes, ferns, club-mosses and horsetails.
For this achievement alone, the work deserves accolade: the only volume offering comparable coverage is Clive Stace's admirable but daunting New Flora of the British Isles, which is even heavier and does not have a single colour illustration.
The colour plates in the Collins guide are of a uniformly high standard, although there is a slight lack of supplementary illustration of details. What it does have, however, are keys to pretty much all species, and these are useful, if necessarily somewhat terse.
These mainly rely on easily observed characters that have previously been used in other 'non-critical' keys, and these can lead to problems in complex groups such as Carex, where immature or atypical material quickly ends in folly – novices beware.
Generally, though, the keys appear sound and are reasonably easy to follow. It is difficult to spot the revisions necessitating this second edition, as they are not detailed anywhere, but they evidently required a slight price increase on the first edition.
Nevertheless, this is a fine field guide that should result in at least a smaller hernia than might arise from lugging around either Stace or the two to three other volumes that you would need to get anything like the same coverage in the field.
David Clements CBiol MRSB