Sex By Numbers: What Statistics can tell us about Sexual Behaviour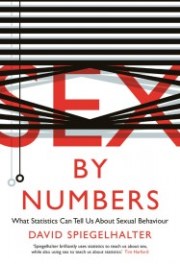 David Spiegelhalter
Profile Books Ltd, in association with Wellcome Collection
£12.99
I am not surprised that Professor Spiegelhalter has an OBE and a knighthood for services to statistics, and is an FRS – this is a most elegant book, which I read with great pleasure. His style is relaxed but of a very high standard: of means (averages), he writes: "If Bill Gates walks into a room (or even a small country), the mean income will change dramatically..."
He establishes a series of believability, from 4* (very likely to be OK), 3* (likely to be OK), 2* (a bit wobbly), and 1* (perhaps interesting, but unlikely to be 'true') and 0* (sheer guesswork). These are my descriptions; his are longer. He looks at sex statistics, such as the ratio of male births to female, the proportions of different populations that are gay and the incidence of same-sex events.
Spiegelhalter considers how often people had sex, taking as evidence, for example, the proportion of 17th-century births within nine months of marriage (he doesn't allow for clergy altering dates). He shows us all kinds of contraception – and their failure rates. He's kind to sexologist Alfred Kinsey and he's properly appreciative of Shere Hite's books.
He is less critical of the National Surveys of Sexual Attitudes and Lifestyles (Natsal) than I would be. He recommends Bonk as a source (I haven't seen it), and he is critical of the trend for teenage abstinence pledges.
Sex By Numbers goes everywhere. It asks – and mostly answers – most of the obvious questions and many odd ones (rarely with 3* or 4*, mostly with 1* or 2*, frequently with 0*). Every school library should have a copy, and it would be the very best book for sex education teachers to have as a resource.
Jack Cohen FRSB