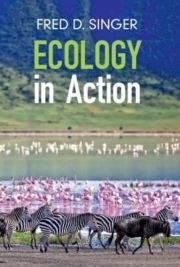 Fred D Singer
Cambridge University Press,
£44.99
This is the best ecology text I have seen to date. Ecology in Action is a research project, and Singer's personality and values as a teaching professional are apparent throughout.
Each chapter has a set of key questions that outline its purpose, a case study, and in-text questions to challenge the student, and give the tutor class discussion and assessment ideas. To test understanding, there are end-of-chapter questions, synthesis and application questions, plus data analysis problems, all of which support putting ecological learning into action.
Data, images and practical exercises such as dealing with data are abundant. In chapter two, Singer shows how to calculate the variance of grassland temperature. In chapter three, observed and expected genotypes and phenotypes are given for stickleback crosses, with supporting information about alleles and genetic terminology.
The basics of ecological concepts are included – biomes, population ecology, niche theory and ecosystem structure. Singer's personal experience of hearing the eruption of Mount St Helens in 1980 informs a section on disturbance and succession.
Some chapters show references for further reading and there is a detailed reference list. There's a glossary of terms in alphabetical order and showing in which chapter they are located. Finally, online resources, including PowerPoint presentations to show in class, are available to those who purchase the book.
In 719 pages, Fred Singer has produced a work of incomparable excellence and detail for modern ecology and, at £44.99, Ecology in Action is worth every penny. A must for anyone studying, teaching or researching ecology.
Pat Sang MRSB