Critical Role of Animal Science Research in Food Security and Sustainability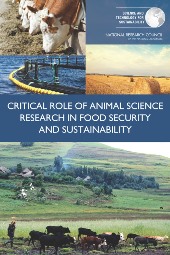 Committee on Considerations for the Future of Animal Science Research & National Research Council of the National Academies
The National Academies Press, £53.00
The US's National Research Council set up a committee in March 2014 to report on the role of animal science research in food security and sustainability towards 2050.
It accepted three underlying assumptions: that global animal protein consumption will continue to increase, that restricted resources and global environmental change will drive complex agricultural decisions, and that rapid advances in basic biological sciences provide an opportunity for animal science R&D investment.
The committee worked quickly, took a global outlook towards animal science in America, as it may affect domestic and global needs, and obtained extensive evidence from people in government, industry, academia, charities and NGOs. It also made substantial use of available literature and drew on similar work from the EU.
The result is a series of hierarchical recommendations. The committee emphasises that investment in animal science R&D in the US has been falling steadily. This has reduced the infrastructure for research and the number of qualified scientific staff, trends that the committee considers should be reversed. It also believes that the detail of its recommendations should be elaborated into specific R&D programmes in a US Animal Science Strategic Plan under the leadership of the US Department of Agriculture.
There is much interesting detail and stimulation in the report. It will be of interest to all those engaged in animal science, but not everyone will agree with the prioritisation of issues for attention.
Dr John C Bowman FRSB