Marine Biodiversity, Climatic Variability and Global Change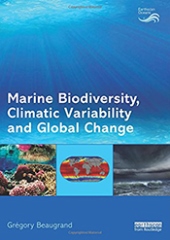 Grégory Beaugrand
Earthscan, Routledge, £47.99
This is a wide-ranging textbook that presents a wealth of detail on a huge range of topics. Beaugrand succeeds in guiding the reader through to his main conclusion: that we need a unifying macroecological theory to make predictions about the huge impact of climate change on marine ecosystems.
Part one reviews spatial and temporal patterns of climate and biodiversity, but begins with some basic climate science. This interdisciplinary approach sets the trend for the whole book, with the necessary foundations in place to make it accessible to a wide readership.
Part two provides a synthesis of how marine biodiversity has responded to recent climate variability and to other anthropogenic environmental changes. In 62 pages, one chapter manages to cover the effects of exploitation, pollution, eutrophication, oxygen depletion, invasive species, reduced ozone and tourism. However, climate change and ocean acidification each get their own chapter with a more detailed review of the current literature and discussion of differing views.
The minor gripes I had with the small colour plates and abbreviated referencing disappear with part three, which introduces Beaugrand's Macro Ecological Theory on the Arrangement of Life (METAL), a new theoretical paradigm based on the ecological niche. In unifying spatial and temporal patterns and processes in ecology, it could be a vital tool to help understand the impact we are having on the oceans.
I recommend this book not only as an excellent introduction to marine biodiversity and climate change, but as a significant contribution to global change ecology. Even terrestrial ecologists should read it.
Dr Ian Powell