The Triumph of Seeds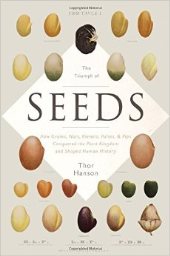 Thor Hanson
Basic Books, £17.99
When it comes to bestsellers, botany often struggles to compete with zoology. This refreshing exception is a eulogy to the power of flowering plants via seeds, a subject literally close to our hearts regardless of our awareness of the fact. After all, we often eat (cereal), drink (coffee) and wear (cotton) flowering plant products. They also have industrial applications, and have been instrumental in the rise and fall of empires and civilisations.
The symbolism of these apparently dormant structures – which can reconstitute whole plants and life anew after decades or even millennia – is not lost on author Thor Hanson. Starting with seeds as food, he explores their diversity, evolution, economics and uses.
There are unabashed product placements (for Almond Joy chocolate bars and Coca-ColaTM), references to the author's family and interesting historical anecdotes in what is sometimes a schmaltzy, personal narrative.
As well as being entertaining, the book may make you surprised at and grateful to the plants and various co-evolutionary pathways that have delivered everything from chocolate to the design of fighter jets.
Besides the non-technical chapters, the book has notes, references and a botanical checklist so the reader can explore topics further.
This will be more than a useful primer for botanists, as well as for gardeners, foodies, conservationists and others interested in the sheer magic of seeds both practically and philosophically.
Rajith Dissanayake AMRSB