Field Guide to Invasive Plants & Animals in Britain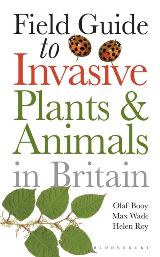 Olaf Booy, Max Wade and Helen Roy
Bloomsbury, £24.99
Costing the British economy £1.7bn each year and competing with some of our already struggling natives, invasive species can have disastrous consequences in the UK. This guide not only outlines the current culprits, but also details non-native fauna and flora that may pose a threat in future.
The introduction defines what an invasive species is and explains the ecology behind them using thought provoking statistics. When skimming through, you're struck by the generous number of colour photographs, providing a real feel for the species and making identification simpler.
The guide should be applauded for its ease of use. It is compact and concise, yet brimming with information. A key shows the species' distribution, habitat, population trend and whether it needs to be reported. The book also nicely summarises their natural history, including native range and how and when they were introduced to the UK.
It was particularly remarkable to see so many common garden plants with invasive tendencies and gives food for thought about whether we should be more considerate when choosing what we grow.
I was also pleased to see that the guide is up to speed with the latest technology, mentioning the use of apps to record wildlife. It should be noted, though, that this guide does not include any of Britain's invasive marine species.
Overall, it is an incredibly useful and genuinely enjoyable guide that will be of use to any wildlife lover, from the passionate amateur interested in conserving native species to the expert requiring a go-to guide when surveying.
Dan Rowson AMRSB