House Guests, House Pests: A Natural History of Animals in the Home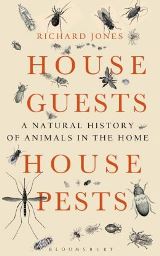 Richard Jones
Bloomsbury Publishing, £16.99
Humans have a contrary attitude towards the animals that cohabit our local environment. Where we take delight in seeing a variety of vertebrates and invertebrates in our gardens, parks and woods, we are less thrilled to find the same creatures sharing the inside of our homes (with the few exceptions that are seen as domestic pets). This paradox is explored in great detail in this enjoyable read.
The context is set by explaining how each nook and cranny of people's houses provides a warm and hospitable new niche for mammals (think mice and bats), birds (think swifts and barn owls), as well as the more obvious creepy crawlies that we more readily identify as pests – wasps, moths, flies, spiders, beetles, woodlice, ants and the like. Mention is made of how these creatures came to live with or, in some cases, on us.
Jones' enthusiasm in conveying facts worthy of dinner party anecdotes shines through and reveals him to be the notable entomologist and natural historian that he is. While House Guests, House Pests is, by admission, unashamedly northern European in perspective, so would suit this readership, a nod is given to invaders in warmer climes.
As someone who has observed two geckos climb the wall while writing this review, I content myself that their discreet (and discrete) droppings are offset by the efficiency with which they catch all manner of biting insects. They are included here – but are they a guest or a pest?
Professor Andrew Taylor-Robinson CBiol FSB