Concrete Jungle: New York City and our last best hope for a sustainable future
Niles Eldredge and Sidney Horenstein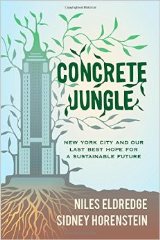 University of California Press, £24.95
As major cities around the world continue to grow, they place an increasing demand on their surroundings for resources. Some resources such as water have a local effect, but others, like food, may well have wider, even global implications.
The authors, both born and bred New Yorkers, use their home city to argue that such places can hold the key to ensuring the survival of animal and plant species – indeed, whole ecosystems – even when they are under enormous pressure.
Much of Concrete Jungle is given over to the history of New York and how its continual expansion has affected the surrounding areas, destroying habitats and polluting the environment. As one who knows and enjoys New York, this is a fascinating read, and New Yorkers will find much to interest them in discovering often overlooked historical features.
Eldredge and Horenstein suggest that cities are the best places to see environmental restoration because it is the big, rich cities that have the great institutions such as museums and universities, as well as the power bases for many important NGOs, which can bring about change.
What is interesting is the change being brought about at grassroot levels. Manhattan now boasts many community and rooftop gardens, and the elevated railway line turned park, the High Line, is a major tourist attraction. There are ambitious schemes in hand to clean the Hudson and East rivers to encourage the recolonisation by fish and shellfish. Farmers markets have blossomed and become an important retail outlet for farmers from New York and the surrounding states.
Early days, but very promising nonetheless.
Dr Leighton Dann