The Fundamentals of Horticulture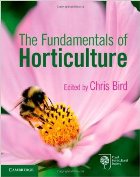 Edited by Chris Bird
Cambridge University Press, £27.99
While this book is clearly designed for students studying horticulture, it would be of interest to amateur gardeners who wish to increase their knowledge and understanding of the horticultural trade.
The text supports Level 2 of the restructured RHS qualification in horticulture. There is also Level 3 material in boxes throughout the text and there are two chapters aimed at Level 4. Each chapter has a box of key concepts at the start, case studies to give real life applications of the theory, and a summary at the end, together with some useful revision questions, further reading and references.
Finally, students are signposted to section headings of the syllabus via a box indicating the RHS levels. At the end of the book there are three appendices, parts of which are highly specialised for a student, others less so.
In some chapters, the figures are highlighted in the text, so you can quickly associate an illustration or figure with a particular paragraph. In others they are not and seem to be there just to break up the text. The editing could have been better: the image in the case study at the start of each chapter sometimes bears no relation to the accompanying text. And the index isn't easy to use. With vague headings such as 'plants', you're faced with scanning 150 sub-headings to find what you're looking for.
However, these are minor faults and, overall, this is a useful and most welcome addition to a horticulturalist's library.
Dr Leighton Dann