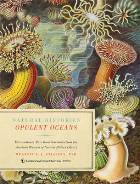 Melanie L J Stiassny
Sterling Signature, New York, £40.00
The name of this collection of rare essays seems to refer not just to the wealth of spectacular creatures in the sea, but to the bounty of exquisite artwork that arrives with the book itself. As much for art lovers as nature lovers, Opulent Oceans comes in a beautiful box containing 40 frameable prints of the artwork featured in the book, some of which dates back to the 15th century.
Part of a series of books based on rare collections from the American Museum of Natural History's library and other archives, Opulent Oceans explores a range of essays and plates from early oceanographic research.
The chapter titles give a good sense of the curious mix of history, seafaring and natural science contained within: 'The perilous expedition to Australia's coastline'; 'The gentleman phycologist' and 'The vampire squid from hell', to name a few. The 40 chapters explore texts on everything from plankton and coral to dolphins and sharks, with a few mythical creatures such as sea-monks and web-footed horses included from Pierre Belon's The Nature and Diversity of Fishes.
The biographies of the people behind the historic research aren't always gripping – some are little more than a dense list of their publications and achievements in chronological order – but where details of individual adventures emerge, or modern science is compared to what was known then, the book becomes more interesting.
Thanks to the prints and striking presentation box, this would make a great gift for anyone with an interest in science, natural history or art.
Tom Ireland MSB